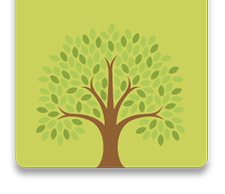 INTRODUCTION
In the late 1970s, I watched my father, Edwin Brune, and mother, Ruth (Hecht) Brune, work on genealogy. My Dad had recently retired and pursued genealogy as a hobby. My Mom took his notes and began adding the data to charts that looked like family trees. A few years later, I married and became interested in gathering information on my new married name. Thus began the collection of data that led to this book.
The information comes from many sources. My mother-in-law's sister, Minnie Torian Ellis was interested in the family's history and she had several pages of hand written notes with the names, dates of birth and death of her parents and grandparents. In 1996 I found the late Peggy Chapman of Lubbock, Texas through another relative, Cindy Bippert. Peggy had begun researching the Torians in 1961 and was the guru of all Torian genealogy. I was a "newbee" and she willingly shared her research from the 1960s, 1970s, etc. and she taught me the importance of citing your sources. Over the years I felt like I knew her even though we never met. For many years she corresponded with relatives and by about 1996 she started emailing a core group of Torian descendants. Email was a new thing at that time and it enabled her to communicate in mass with a group of Torian "cousins". The names have changed somewhat and expanded but I continued her practice of sending group emails to the "cousins" to share and request information. Most of the very early research in the 1700s in this book is from Peggy and is not my original research. Peggy was kind to share what she had with many people and I felt compelled to dedicate this book to her. Without her determination over 40 years, this book would not be published.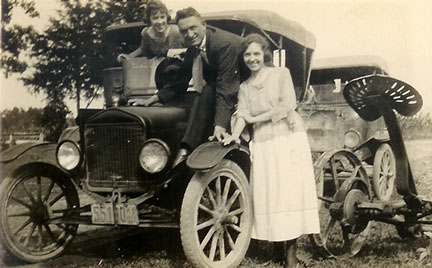 Cleo Torian, Gus Harris, and Rosalie Torian on Charles Glenn's 1919 Roadster at Kate Torian Harris' farm in Paducah, KY 1922
Prior to retiring at the end of 2005, I used much of my vacation time from work to research records at the St. Louis Public Library and St. Louis County Library. In 1996 I attended a Torian family reunion and visited five or six cemeteries in McCracken County, Kentucky. Then in 1997 my ten year old daughter and I attended the Torian family reunion in Paducah, Kentucky and traipsed through many McCracken and Graves County cemeteries and visited the McCracken County Courthouse and the Graves County Library. In 1997 we vacationed in Washington, D.C. and on a lark I went to the National Archives totally unprepared to research, just to satisfy my curiosity. Fortunately I had some blank paper with me and the Torian name was so unusual that even without having a list of Torian names, I was able to copy Torian military records from the War of 1812 and the Revolutionary War over a two day period. I also visited the Allen County Library at Fort Wayne, Indiana in May 2007 and 2008 for five days each; and the Family History Library in Salt Lake City for a week in November 2007 to search for Torians. I ordered material from the Edith Garland Dupre Library, Special Collections at the University of Louisiana at Lafayette,
in a collection known as the Givens & Hopkins Families Papers donated by Lyle Givens Williams. I also hired researchers in Halifax County, Virginia and Baton Rouge, Louisiana to gather documents. And of course, I used any database I could find on the Internet. I sent hundreds of letters and emails to relatives and organizations to gather information.
Through this effort I've identified nearly 3300 Torian descendants and their extended families. This book grew much larger than I anticipated (over 800 pages) and in order to not make it even larger I have confined the book to the Caucasian Torians and have excluded the African American Torians who are descended from slaves. This group merits their own book and maybe someday this book will be written.
In June 2007 I explored whether there was interest in a Torian book with about 15 Torian "cousins" whom Peggy Chapman had emailed in the 1990s. After receiving some commitment from these individuals to share information I started writing in June 2007 and I worked two and one half years on this book, 10 to 40 hours a week. I spent most of the time writing but continued to research as I progressed through chapters. Many hours were spent contacting living descendants to add living generations to the chapters and to have them contribute, read and proof what I wrote about their family.
I have pestered Torian "cousins" to write stories about their families, parents, and grandparents so I could add them to this book. I thank many of them for doing this and sharing copies of photos and other documents. It is these stories that make the people interesting and come to life and more than just "born, married, died" statistics. James Patey, a Torian descendant, wrote the Torian Genealogy, and updated it with a Volume II, published in 2004. He was kind enough to allow me to quote his book extensively in this one and he relied heavily on Peggy Chapman's data. He also shared photos from his previous books. Turner Publishing Company gave me permission to include the Torian family stories from Volume 1 of the Christian County History. Rebecca Owen who is a Torian descendant and a librarian at the Christian County Public Library shared many obituaries, marriage records, and news stories with me, particularly for Chapters VI and IX. I thank Hallie Torian Owen, Dolly Foster Pugh, Charles Sherrer, Art Wright, Jimmy Phillips, Lee Torian, Cindy Bippert, James Lewis III and many others for sharing many wonderful photos with me. Phil Torian shared his father, Thomas Wilson Torian's entire album which contained many photos and original Torian letters written from 1849 through the 1880s. Many of them are included in Chapter VII. Other cousins shared information about their family including Bob Skinner, Cynthia Toll, Art & Pickett Wright, Charles Glenn, Mark deBarry, Mel Torian Jr., Bob Meyer, Jackie Ledbetter, Bill Moorefield, Bobby Stevens, Brenda Pulliam, Bea Burton Hornaday, and many others. I thank Nancy Torian Goodman for loaning for many months copies of Perrin's History of Christian County and History of Trigg County, Kentucky to me. Shirley Langdon Wilcox, CG, FNGS, was an enormous help to me. She read most chapters and shared census, early tax lists, sources, and other data that I didn't have and she made numerous corrections and suggestions to the chapters. Shirley and Peggy started sharing Torian information more than 30 years ago.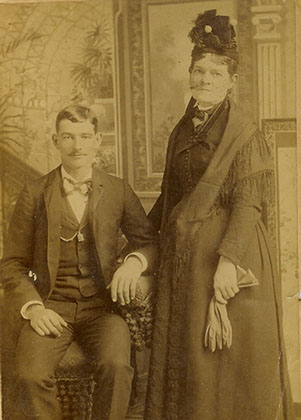 Pinckney Bethell Torian and his mother Lavinia Redding Torian
The name Torian has been spelled and pronounced in various ways. Some variations to the Torian spelling have included Toryan and Toryann. Dr. Phillip Burton wrote to Hallie Torian (now Owen) in 1966 about the pronunciation of the Torian name. He said "incidentally, we had it both ways in Mississippi: Toe-ran and Tory-an. Guess I was grown before I knew the correct spelling. In Kentucky it sounds at times like Tor-in. When I first heard it there, I had to have it spelled out."
Throughout the book the reader will notice an unusual use of the word Junior in early documents. The modern day use indicates that Jr. is the son of a father with the same given name. However several hundred years ago, Jr. often meant the younger person with that given name to distinguish him from an older relative (not a father but perhaps an uncle and nephew relationship, etc.) with the same name.
Throughout the book, I have retained the original spelling I found in historical documents, even if it was incorrect. I have tried to list [sic] to designate the spelling is incorrect; however, the text contains the original spelling that I found. Thus you will see a name spelled many ways.
This book is written using the Modified Register style of reporting. A Modified Register report lists the descendants of a person. The starting person is number one. Descendants are numbered sequentially as they are encountered through the first seven generations.
+
A plus sign to the left of a name indicates this person is listed in detail later.
ca
Circa, this indicator means about, and is used when an exact date is unknown.
[sic]
This symbol is used when a document contains a misspelled word or another error. When citing original records, the information is transcribed as it appears in the document even though it is incorrect.
A small italic number after a given name, Thomas2, is a generation number showing the number of generations from the first family member. The superscript numbers within or at the end of a sentence are the citation numbers. The endnotes provide the documentation where this information was located. Information written in italics indicates I did not write this material and it is from another source.
I struggled with how to organize this book since it is so large.
The Elisha H. Torian famiy. Back row: Bird, Ben standing in front of Robert, Mary E. Front Row: Elisha H., Beulah, and Fannie Dean holding Dove, ca 1907
Chapter 1 starts with the earliest known Torians who lived in the 1700s in Soglio, Switzerland including old Scher Torian who immigrated to Virginia. His children are found in chapters 2, 10, 19, and 20.
Chapter 2 is Peter Torian, son of old Scher and chapters 3-9 are about Peter's children and their descendants
Chapter 10 is Andrew Torian, another son of old Scher. Andrew married Sarah Comer and chapters 11-18 are Andrew and Sarah's children and their descendants.
Chapter 19 is Mary Torian, a daughter of old Scher Torian.
Chapter 20 is Scare Torian, a son of old Scher Torian who immigrated with him.
My approach has been to concentrate on the Torian relatives. Of course, there are allied lines but most of the data is about the Torians. As female Torians married men with different surnames I included less information. As the surname changed from Torian I usually stopped listing the family after about two generations. In order to protect the privacy of the living, I only used names and year of birth, not complete dates, etc., unless the family member gave permission to include more. Years of birth were necessary to distinguish between people with the same name. Complete marriage dates are used since these are found in public records.
Marian (Brune) McCreary
2010