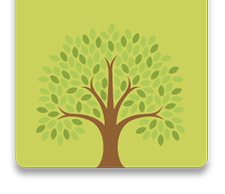 CHAPTER I
THE EARLIEST BREMER FAMILIES
In order to understand the times in which our Bremer and Brune families lived, we need some historical background on the places where they lived in Germany. The Bremers were from northwest of Hamburg in the area now known as Schlesweg-Holstein which is the far northern tip of Germany almost to Denmark. Herman Bremer (Chapter II) was born in Suderau which is northwest of Elmshorn, Schlesweg-Holstein, near the Elbe River.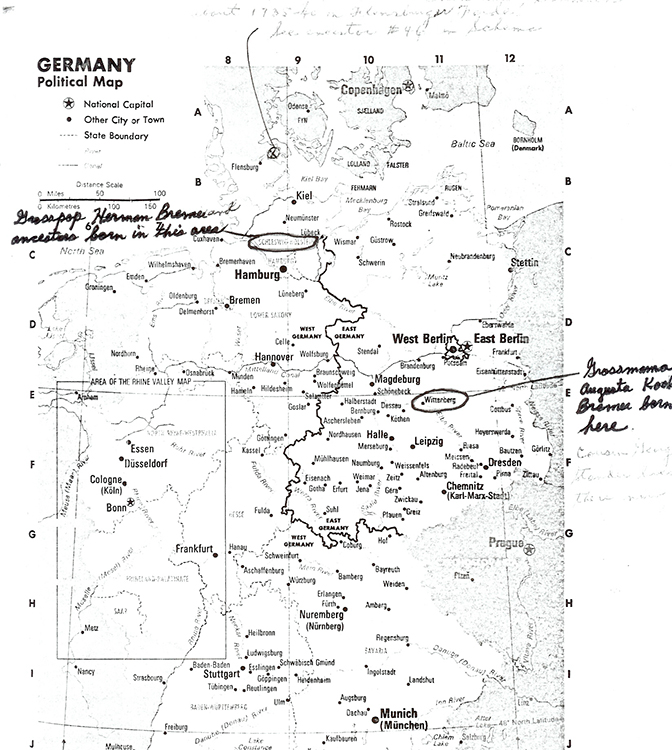 Prior to 1874 there was no single country called Germany. There were German people and a German language but they lived in different kingdoms, principalities, duchies, etc. with their own rulers and laws.
Prussia declared war on Denmark in 1864 and annexed this area of Schleswig-Holstein. Herman Bremer's ancestors were born or lived in the towns circled. All were part of Denmark at that time.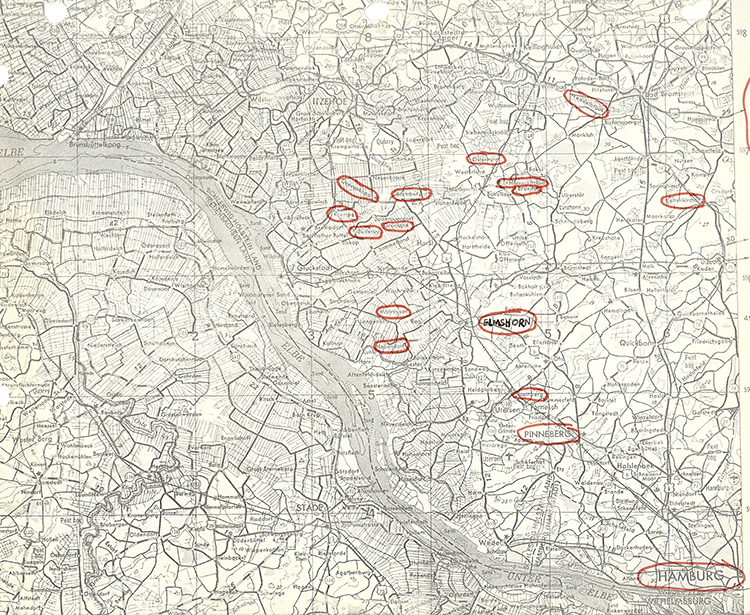 Map of Northern Germany Schlesweg-Holstein
I have researched church records on microfilm and have found some information on the Bremer family in the Evangelical Church records. It is very difficult to go back several hundred years in time since all the records are written in old German script, which is very difficult to read and translate. I have included the alphabet in old German script in the appendix and numerous examples of baptism, confirmation, marriage, and death records throughout the chapters. To leave one's home country and travel to a foreign land without knowing what to expect, how to communicate in a new language, whether life would be better or not, to give up one's family—oh what difficult decisions they made.
Most of them were peasants, struggling in poverty, looking for a better life. Many reasons contributed to leaving their homeland such as poverty, poor crop harvest, potato famine, small amounts of available land, compulsory military service, and the inability to get permission to marry. In order to marry, proof of assets was required such as a house, land, or tools. Southern and western Germans tended to emigrate through the ports of Bremen or Le Havre, France. Northern and eastern Germans tended to leave through Hamburg. The immigration lists usually show the names of the emigrants, ages, occupations, and destinations. People wanting to leave were required to request permission from the government. The majority of families and single men filed petitions for permission to emigrate, although some left illegally, probably including some of our relatives. Of those who immigrated to the United States, about 90 percent (over 23,000,000) arrived at New York City and 5 million arrived at other ports. Some of our relatives are among the 710,000 people who arrived at New Orleans.
THE VOYAGE
In the early years, 1840s and 1850s, travel from Europe to the United States was usually on a sailing ship. Although many ships had first class and steerage, most passengers couldn't afford first class and conditions in steerage were often very poor. The lowest deck stowed merchandise going to the new land. The next deck was for steerage passengers and space was very limited. Often there wasn't any more room than needed to lie down to sleep. Sanitation was terrible as buckets were used for seasickness and toilets. Bathing was impossible and food sometimes ran out before the end of the voyage. On sailing ships the trip often took 40–55 days. Steam ships became more common in the 1860s and conditions improved. The ships were still cramped but hygiene was better and the steamers could make the trip in twelve or more days. In later chapters there are photos of some of the ships our ancestors took to America.
The following information in this chapter unless otherwise noted, came from the family tree of Wilhelm Ludwig Bremer of Hamburg, Germany, and was mailed by his son-in-law, Herman Reichenbach of Hamburg to my father Edwin Brune in 1977. Mr. Reichenbach sent many elaborate, detailed charts of the Bremer family showing name, occupation, where and when born, when baptized, married and died.
JOCHIM1 BREMER, married Rebecca Eilers.
Known child of Jochim1 and Rebecca (Eilers) Bremer:
i. HINRICH2 BREMER, born 1758, probably in Moorhusen, Schleswig-Holstein; married Gesche Langmaack on 7 October 1792 in Elmshorn, Schleswig-Holstein, Prussia; and died 10 March 1814 in Moorhusen, Kirchspiel Neuendorf by Elmshorn, Holstein. Hinrich worked as a kätner or laborer. Gesche was born about 1764 in Elmshorn, Schleswig-Holstein, and died 11 February 1837 in Neuendorf, Holstein. Her parents were Marx Langmaack and Elsabe Meyer.
Known children of Hinrich2 and Gesche (Langmaack) Bremer:
i. JOCHIM3 BREMER, born 26 April 1793 in Moorhusen, Schleswig-Holstein; died 2 September 1864.
ii. MARX3 BREMER, born 10 February 1796 in Siggendiech, Neuendorf by Elmshorn, Holstein; baptized 12 February 1796 in the Evangelical Lutheran Church. He married Anna Hinz 1 June 1817 in Grevenkop by Krempe, Germany. Marx died 2 June 1872 in Deischerde, Suderau, Germany. Anna was born 22 January 1792 in Grevenkop by Krempe; baptized 24 January 1792 in the Evangelical Lutheran church; and died 5 February 1868 in Suderau. Her parents were Johann Hinz and Anna Lüders.
Known child of Marx3 and Anna (Hinz) Bremer:
i. HINRICH4 BREMER, born 27 October 1817 in Grevenkoper Riep, Suderau, Germany; and baptized 1 November 1817 in the Evangelical Lutheran church. He married Rebecka Lüdemann on 5 July 1846 in Suderau, Schleswig-Holstein. Hinrich Bremer died 12 February 1869 in Suderau. Hinrich was a kätner u. tischler or cabinet maker/carpenter. Rebecka Lüdemann was born 5 April 1820 in Suderau and was baptized on the same day in the Evangelical Lutheran church. She died 31 August 1885 in Suderau. Her parents were Harm Lüdemann and Rebecca Seissmann.
Children of Hinrich4 and Rebecka (Lüdemann) Bremer:
+ i. HERMAN5 BREMER SR., born 28 July 1846. More information is found on him in Chapter II.
ii. ELIZABETH "BETTY"5 BREMER; married [–?–] Gratz in Hamburg.
iii. MARCUS5 BREMER, born 8 March 1853 in Suderau, baptized in the Evangelical Lutheran church on 8 March 1853; and died 13 July 1932 in Wilhelmsburg, Germany. He married Maria Johanna Herrmann on 21 October 1880 in Friedrichstadt, Germany. Maria was born 5 March 1853 in Friedrichitadt and died 16 November 1924 in Wilhelmsburg. Maria was a schneiderin or tailor/dressmaker. Marcus was a stellmachermeister or master wheelwright.
Known child of Marcus5 and Maria (Hermann) Bremer:
i. WILHELM LUDWIG6 BREMER, born 14 December 1890 in Wilhelmsburg, Kreis Harburg, Germany, baptized 26 December in the Evangelical Lutheran church; and died February 1971. He married Elsa [–?–] on 14 February 1920 in Hamburg. Wilhelm was a baumeister or master builder.
Child of Wilhelm and Elsa [–?–] Bremer:
i. [–?–] daughter Bremer, married Herman Reichenbach.
iv. ANNE5 BREMER, born in Suderau and married
[–?–] Rosecke.
+ v. HEINRICH W.5 BREMER, born 1858 in Berlin. He married Marie Koch. More information is found on him in Chapter IX.
iii. REBECCA3 BREMER, born 26 February 1798 in Moorhusen, Schleswig-Holstein; and died 28 July 1800.
iv. REBECCA3 BREMER, born 26 November 1800, in Moorhusen, Schleswig-Holstein.