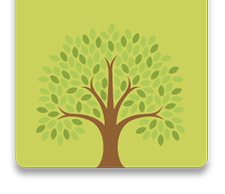 CHAPTER I
THE EARLIEST BRÜSEKE FAMILIES
In order to understand the times in which our Brüseke family lived, we need some historical background on the City of Lienen, County of Tecklenburg, Westphalia, where they were from. Today, Westphalia is known as Nordrhein-Westfalen, Germany.
Prior to 1874 there was no single country called Germany. There were German people and a German language but they lived in different kingdoms, principalities, duchies, etc. with their own rulers and laws.
I have researched church records on microfilm and have found extensive information on the Brüseke family in the Lienen Evangelical Church records. It is very difficult to go back several hundred years in time since all the records are written in old German script, which is very difficult to read and translate. I have included the alphabet in old German script in the appendix and numerous examples of baptism, confirmation, marriage, and death records throughout the chapters. To leave one's home country and travel to a foreign land without knowing what to expect, how to communicate in a new language, whether life would be better or not, to give up one's family—oh what difficult decisions they made.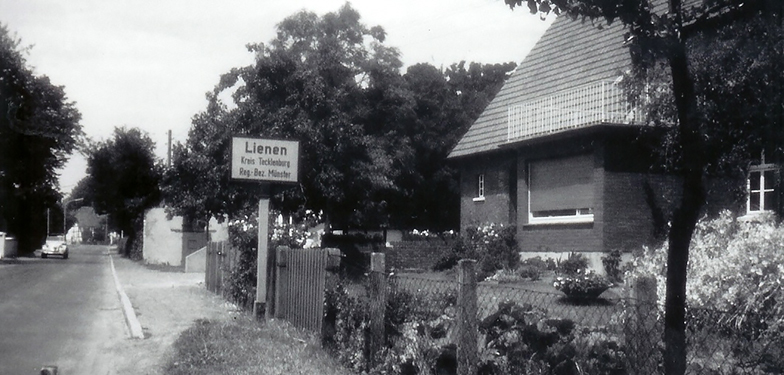 Road sign at entrance to Lienen
During the period of 1800 to 1939, Lienen had over 2800 families or individuals emigrate, the majority to the United States.1 Most of them were peasants, struggling in poverty, looking for a better life. Many reasons contributed to leaving their homeland such as poverty, poor crop harvest, potato famine, small amounts of available land, compulsory military service, and the inability to get permission to marry. In order to marry, proof of assets was required such as a house, land, or tools. Southern and western Germans tended to emigrate through the ports of Bremen or Le Havre, France. Northern and eastern Germans tended to leave through Hamburg. The immigration lists usually show the names of the emigrants, ages, occupations, and destinations. People wanting to leave were required to request permission from the government. The majority of families and single men filed petitions for permission to emigrate, although some left illegally, including some of our relatives. Of those who immigrated to the United States, about 90 percent (over 23,000,000) arrived at New York City and 5 million arrived at other ports. Some of our relatives may have been among the 710,000 people who arrived at New Orleans. At least one Brüseke, entered through Baltimore, Maryland.
Lienen
My mother, Ruth (Hecht) Brune, had several typed pages that were photocopied several decades ago about Lienen that are in English and marked from the research file of Friedrich Peters, written by Friedrich E. Hunsche, probably in 1965. I've obtained the book by Hunsche, 1000 Jahre Gemarkung Lienen 965–1965, which is written in German, through inter-library loan, however I haven't been able to find the English version. The following is taken from it.
Lienen and small villages, taken from
Auswanderer-Chronik der Gemeinde Lienen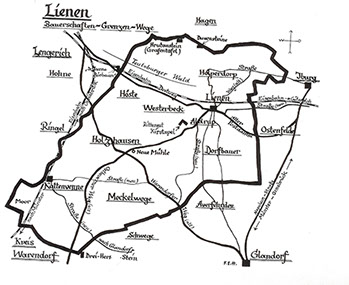 "The introductory to a descriptive pamphlet on Lienen, Germany, describes it as "an idyllic village" on the Teutoburger Forest. It has eight communities, known as "Cherryland", namely Höste, Westerbeck. Aldrup, Dorfbauer, Holzhausen, Meckelwege, and Kattenvenne. Lienen arrived at 1000 years of recorded existence in 1965. The first church building was probably erected in the times of Karolingian, and since year 1200 the village was subject of Count Tecklenburg Some 300 years ago Lienen enjoyed a period of growth upon the establishment of a linen processing works introduced by the Counts of Tecklenburg.
After earlier centuries of depression, the coming of the railroad in 1870 served to bring Lienen in touch with markets and industry until today this town of 6800 inhabitants is the center of a varied industry and enterprise. Additional to the communities enumerated above is the community of Holperdorp, whose limestone quarries have been closed and the caves now utilized for production of mushrooms.
The 1000 year history of Lienen published for this Anniversary event refers to economy and government as early as year 1309. The House of Harkotten with its Barons received tribute from farm-manor household, whose names and relationships are told from the preserved accounts of that day.
Property and unencumbered title was strictly controlled. Charter, when awarded, was obtainable for a price and served to free the licensee from certain tributes and fees. As free agents they might engage in trade or promote a craft. Such charter was priced at 20 Reichstaler in year 1708; 25 Reichstaler in 1770.
Marriage was observed with custom and tradition, such as publication of dowry with reading of the banns. In this practice the father-in-law practically subsidized the establishment of the new family.
Our immediate interest is drawn to the account of some 3000 of Lienen residents who immigrated, first to nearby areas, then worldwide but mainly to America. At the end of the Thirty Years War in 1648 the economy was in a bad way. Those not gainfully employed ventured to adjoining Holland as laborers, mainly in the peat bogs. Not all returned to the homeland, some remained to marry and settle. Others took passage to Holland's colonial East and West Indian possessions, and to Africa. It was noted as early as year 1654 some of these wandering sons had prospered enough to remit money for the aid of the poor at home. The approximately 100 native sons who left Lienen before year 1800 are fully accounted for and a graph provided showing where they settled, and the trades they supported. Included are some women who made a living as servants.
While the authorities did not approve of leaving the country, the annual reports of 1772, and again 1775, emphasized that work was not available for many, and those who migrated often sent money home. The continuing economic hardship and local over-population took on a trend to family emigration as compared to individuals before 1832, in reports that named families and warned of the probable increase as favorable reports of their fortunes were returned.
The historian notes that year 1833 saw 39 persons leave for other shores; in 1834 again 39 persons, several families among them. In 1835 an increase to 69; in 1837 it was noted 91 had migrated and represented a considerable loss of capital to the community. With the 1840 report is accounted 158 people with 8380 Reichstaler leaving the country with them!
Six of the last named were land owners and it is stated the majority of recent migrants settled in Missouri. There is recognition, too, of the perils of travel, of death on the voyage, of shipwreck, and of mishaps in the pursuit of a new life and home. The officials of Lienen took note that the labor supply was reduced, and those remaining were by nature such as were without means for departing. Population that counted 4846 citizens in year 1813 was reduced to 4123 in year 1863, a loss which was not recovered until year 1927.
After the Franco-Prussian War of 1870/1871 this emigration tapered off. Nationalization favored industrialization, bringing employment to what was before a "small-state" economy. Few immigrants returned to their homeland, for several reasons.
Correspondence reflects the varied individual fortunes. A laborer reported in 1852, that as Tailor in St. Louis he earned $30 per month. A letter 17 January 1852 by the brothers Wilhelm Heinrich Suhre and Rudolph Suhre mailed in Illinois detailed the produce and prices of his farm which was located "ten hours drive from St. Louis". They also reported the arrival of fellow townsmen, the family Rudolph Beckmann. These had experienced the loss of their youngest child during the ocean voyage, and death of the father on the steamboat trip up the Mississippi from New Orleans. Rudolph and Ernst Suhre lived together, their farm producing 1800 bushels of corn which brought 35 cents a bushel at St. Louis. Of his four sons, one Friedrich Suhre, was the tailor employed in St. Louis, The fortunes of fellow townsmen were reported to the home folks; E. Kriege from Lienen had the misfortune to break a leg on the voyage. Jacob Wegmann and his three children died, with a like fate for the three children of R. Bollmann. Wilhelm Hürlander also sent greetings to the home folks from his farm which was 11 hours journey from St. Louis. This correspondence and a card index of given names with birth dates and parental names of Lienen family are in possession of the author, Friedrich E. Hunsche."2
In this document Hunsche referenced those who left Lienen after 1800 including the following names that are known to be part of the greater Brüseke family: Brauns, Brüggenjohann, Brüseke, Lagemann, Lindemann, Strübbe, Suhre, and Tönjes.
I found a wonderful book, written in German by this author, called Auswanderer-Chronik der Gemeinde Lienen which lists all the individuals and families who emigrated from Lienen. There are 86 names who left before 1800 and 2828 names who left between 1800 and 1939. See the appendix for a list of the Brüseke names.
I struggled to find a copy of this book and had to play detective to search for it. Years ago a family member photocopied several pages including the page with Bruesekes. I found a reference to the book on the Internet and a stranger emailed several more pages to me. Then I emailed a few sentences in English to the Lienen Tourist Board in Germany requesting to buy the book but had no response. I wrote a query on Rootsweb.com asking for the address of a bookstore in Lienen and someone responded. I wrote to the book store in English and received an email reply saying the book was out of print. Then I searched WorldCat on the Internet through my local library. It is a master list of all books in the United States in libraries. It showed only about nine copies of this book were in the United States. I tried to borrow a copy on inter-library loan, but the book wasn't available for that. Eventually a cousin, Richard Brueseke made a trip to Lienen in December 2005 and I asked him to buy the book if it was available. He wasn't able to do so; however, he had a German pastor friend who sent some booklets about Lienen and the Evangelical Church to Richard, and lo and behold there was a copy of the book. When I finish with it I will donate it to my local library.
In 1964, Pastor Klaus Gronenberg at the Evangelical Church in Lienen prepared a document about Henry Brueseke and his relatives from church records. I believe he gave it to Rev. Edward Brueseke when he visited Lienen in 1964. In it he said between 1833 and 1893, 630 persons left Lienen, Dorfbauer, to emigrate and nine of these had the name Brüseke, with a tenth with the name Brüseke who left from Lienen, Holperdorp.
THE VOYAGE
In the early years, 1840s and 1850s, travel from Europe to the United States was usually on a sailing ship. Although many ships had first class and steerage, most passengers couldn't afford first class and conditions in steerage were often very poor. The lowest deck stowed merchandise going to the new land. The next deck was for steerage passengers and space was very limited. Often there wasn't any more room than needed to lie down to sleep. Sanitation was terrible as buckets were used for seasickness and toilets. Bathing was impossible and food sometimes ran out before the end of the voyage. On sailing ships the trip often took 40–55 days. Steam ships became more common in the 1860s and conditions improved. The ships were still cramped but hygiene was better and the steamers could make the trip in twelve or more days. In later chapters there are photos of some of the ships our ancestors took to America.
EARLIEST BRÜSEKE FAMILIES
Cousins John and Helen Oakley gathered information on the older generations during a trip to Germany in 1988. They visited Lienen and hired the church secretary to trace back several generations. She prepared the following wonderful chart to trace my great-grandfather, Henry Brueseke, and his ancestors.
Throughout the German church records the term "heuerling" is used to show occupation and the term refers to a form of share cropping with taxation without representation. Most of the Brüsekes were of the heuerling class of peasantry where this continued from one generation to the next.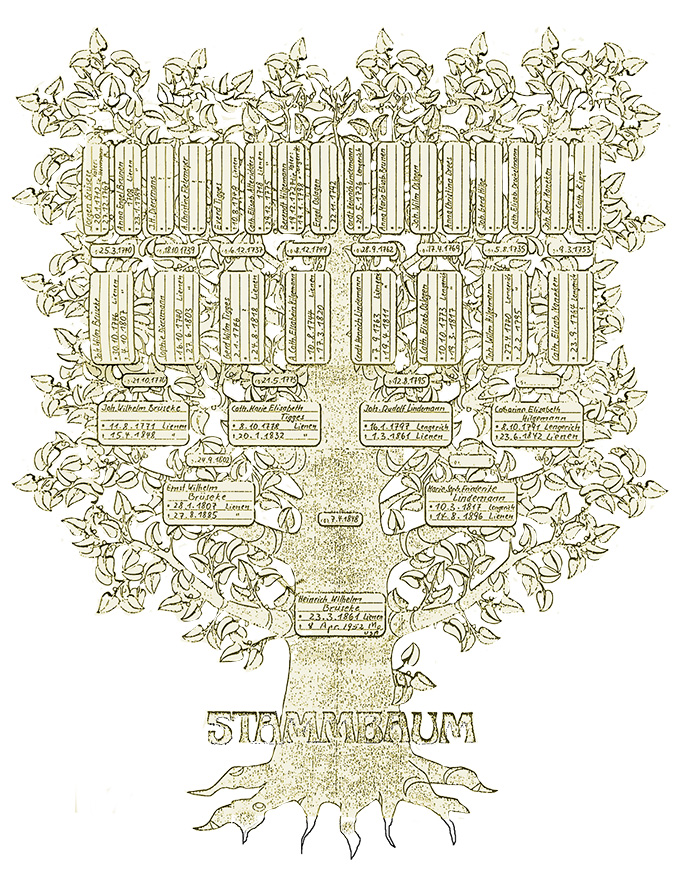 Heinrich Brüseke Family tree prepared by Hildegard Fahrenhorst, former secretary at the Lienen Church
1 HERMAN 1 BRÜSEKE
Known child of Herman1 Brüseke:
2 i. JORGEN2 BRÜSEKE, born 20 January 1712 in Lienen, Tecklenburg, Westphalia; died 27 December 1767. He married Anna Engel Brunen, 25 March 1740 in Lienen, Westphalia. She was born in 1708 in Lienen and died 23 January 1784 in Lienen. The birth record is nearly 300 years old, but still readable on microfilm. It says "20 Jan. Herman Brüseken, Jorgen Brüseke."
Known child of Jorgen2 and Anna (Brunen) Brüseke:
3 i. JOHANN WILHELM3 BRÜSEKE, born 30 October 1746 in Lienen and died 4 October 1807 in Lienen at age 61.4 He married Sophie Diersmann on 21 October 1770 in Lienen. Sophie was born 16 October 1740 in Lienen and died 27 June 1803 in Lienen at the age of 63 and ¾ years.5 Her parents were J. H. Diersmann and A. Christine Fletemeyer. There is a word to the right of "61 jahre (years)" and it is probably the cause of his death.
Known children of Johann3 and Sophie (Diersmann) Brüseke:
4 i. JOHANN "WILHELM4 BRÜSEKE, born 11 August 1771 in Metgers Haus, Dorfbauer, Lienen; and died 15 April 1848 in Dorfbauer, Lienen, at age 77 years.6 Wilhelm was baptized on 17 August 1771 at the Evangelical Church. The copy of his baptism shows taufling (child) Brüseke, Johan Wilhelm geb (born) 11 August 1771, get (baptized) 17 August 1771; eltern (parents) Brüseke, Wilhelm, in Metgers house.7
He married Anna Catharina Elisabeth Tigges on 24 September 1802 and lived at Holtmeier HH in the village of Dorfbauer in Lienen, meaning a small house near a farmhouse. She was born 1 November 1771 in Dorfbauer, Lienen, and was baptized on 3 November 1771 in the Evangelical Church in Lienen.8 She died 20 January 1832 in Lienen of auszehrung which I believe means consumption, leaving her husband, and three living sons and two daughters. According to the death record her parents were Gerd Wilhelm Tigges born 2 January 1746 and died 24 August 1818 in Lienen and Anna Catharina Elsabein Hilgemann born 10 August 1744 in Lienen and died 17 March 1820 in Lienen.9
Children of Johann Wilhelm4 and Anna Catharina Elisabeth (Tigges) Brüseke:
8. I. CATHARINA AGNESA5 BRÜSEKE,5 born 20 November 1802 and baptized 5 December 1802 in Lienen. Her godparents were Catharina Elsabein Tigges, Catharina Agnesa Hersmann and Everd Jorgen Holtmeier.10 She married Ernst Jacob Strübbe on 14 May 1824 in Lienen-Höste when she was 21 and he was 29 years old.11 Ernst was born about 1795. His residence was Holtmeier in Lienen-Dorfbauer and his occupation was Knecht (servant).
It is not known when either of them died. The name is spelled Strübbe in German records and usually Struebbe in Missouri records.
Children of Ernst and Catharina Agnesa5 (Brüseke) Strübbe:
14 i. FRIEDERICH6 STRÜBBE, baptized as Ernst Friederich Strübbe on 16 February 1840 in the Evangelical Church, Lienen. His parents were listed as Johann Ernst Strübbe and Anna Catharine Brüscke at his baptism.12 Ernst Friederich Strübbe and Catharina Sophia Wilhelmina Beckmann were married at the Evangelical Church in Lienen on 25 October 1861. They were each 21 years old.13 According to Lienen records, Ernst Friedrich left secretly in 1870 for America with his wife Minna Beckmann and two children.14 She was born 29 September 1840.
Friederich was living in 1880 at 1324 Monroe, St. Louis, Missouri age 40, with his wife Wilhelmina age 39, and daughter Lina 18, and son William 14 a bookkeeper. His occupation was listed as "Westner". In 1883 he worked as a "Whitener" at 2218 N 14th and lived at 1324 Monroe. By 1891 his occupation and address were the same.15 Friederich Strubbe died 31 August 1907 and was buried 2 September 1907 at St. John's Cemetery according to Zion Church's records. Nothing else is known about him. His wife "Minnie" died 19 March 1891 of cirrhosis of the liver at age 50 years, 5 months at 1324 Monroe and is buried at St. John's Cemetery, Bellefontaine Neighbors, St. Louis County, Missouri.16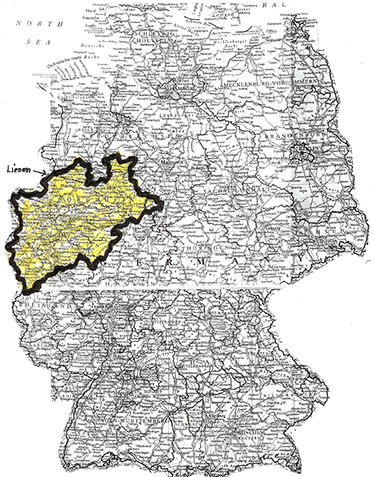 Map of Germany with Westphalia marked

Jorgen Brüseke birth record, 1712


Johann Wilh Brüseke death record, 4 October 1807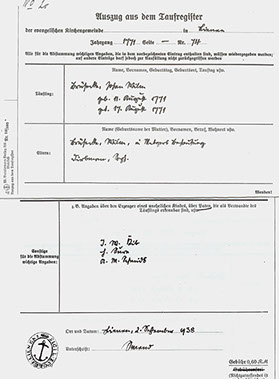 Johann Wilhelm Brüseke baptism, 1771
Children of Friederich6 and Wilhelmina (Beckmann) Strübbe:
31 i. CAROLINE (LENA) ELISABETH7 STRUEBBE, born 31 December 1861 in Lienen, Germany and baptized at the Evangelical Church in Lienen. She married Louis H. W. Brueseke on 28 November 1883 at St. John's Evangelical Church, 14th & Madison, St. Louis. She died 13 October 1914 at 4018 Penrose in St. Louis at age 53 years 9 months and 12 days of chronic endocarditis and is buried at St. John's Cemetery.19 It is interesting to note that her grandmother was a Brüseke and she married back into the Brueseke family again. More on her family is found in Chapter IV with her husband.
32 ii. WILLIAM7 STRUEBBE, was born 10 December 1862 in Lienen and baptized in January as Ernst Wilhelm in the Evangelical Church.20 He died 2 December 1890 at 1324 Monroe St., St. Louis at age 27, single of phthisis buland (also known as consumption or tuberculosis).21 His occupation was a porter and he is buried at St. John's Cemetery in lot 83B.22
15 ii. HEINRICH6 STRUEBBE, was baptized 20 February 1844 in Lienen as Ernst Heinrich Struebbe, with parents listed as Ernst Jacob Struebbe and Catharine Elisabeth Bruesecke.23 My grandmother Alvina (Brueseke) Hecht's notes about him said that he was married and had two daughters, one of whom married a man named Kemper but I've not found any further documentation.
+ 9 ii. CATHERINE ELISABETH5 BRÜSEKE, born 5 November 1804 and baptized 11 November 1804 in Lienen as Anna Catharina Elisabeth Brüseke. She married Hermann Heinrich Brauns on 22 January 1836 in Lienen. See Chapter II.
+ 10 iii. ERNST WILHELM5 BRÜSEKE, born 28 January 1807 at Dorfbauer 4C, Lienen, and baptized 8 February 1807 in Lienen. He died 27 August 1885 at 5b Dorfbauer, Lienen. He married (1) Catherina Sophie Becker on 27 November 1835 in Lienen and (2) Marie Sophie Friederike Lindemann on 7 April 1848 in Lienen. See Chapter III.
11 iv. ANNA SOPHIA5 BRÜSEKE, born 22 September 1810 in Lienen24 and died 20 December 1811 in Lienen.25 Witnesses to her baptism were Hermann Henrich Brüseke, Schreiner (cabinet maker) age 36 and Ernst Wilhelm Kriege, Heuerling (hired man), age 32.
+ 12 v. FREDERICH WILHELM5 BRÜSEKE, born 4 August 1814 in Lienen and died 27 February 1882 in St. Louis, Missouri. He married (1) Sophie "Elisabeth" Brüggenjohann 3 April 1846 in Lienen and (2) Mary Elizabeth Gronefeld 29 August 1855 in St. Louis, Missouri. See Chapter IV.
13 vi. EBERHARD "WILHELM"5 BRÜSEKE, born 2 April 1818 and baptized 12 April 1818 in Lienen. His baptismal sponsor was Eberhard Teckenbrok.26 He was confirmed as J. Ev Wilh Busiek [sic] at age 16 in 1834 and shown as living in Dorfbauer. He apparently died in St. Louis, Missouri, between 9 April 1850 and 16 July 1850.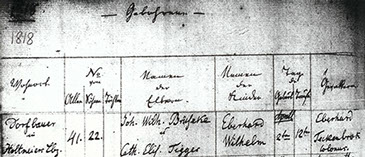 Eberhard Wilhelm Brüseke's birth & baptism, 1818
The 1850 census in St. Louis shows Frederick Bruseke age 35 and his wife Elizabeth living with their son William age 4 and a man, Henry Brugenjohn [sic], presumably Elizabeth's brother. I believe they are the family listed above this one. Living with them are Caroline Pickels, age 23 born in England; Savina Brueseke, age 21 born in England; and William Bruseke, age 3 months born in Missouri. I believe Savina was the widow of Wilhelm Brueseke and that upon becoming widowed she lived with her brother-in-law Frederick. The following evidence suggests this.
Sovina Pickles and William Brusaka [sic] were married in the City of St. Louis on 29 July 1849. William Brüseke died apparently shortly after their marriage because there is a lengthy probate record for him filed in 1850. The administrator of his estate was Sophia Bruseke. A $1600 bond was filed 16 July 1850. An inventory of his belongings was prepared on 27 July 1850 and it included the following: bureau, looking glass (a mirror), table, washstand, rocking chair, 6 chairs, carpet, 2 window curtains, carpet bag (a suitcase), 2 candle sticks, cupboard, books and papers which were appraised at $48.50. Also among his assets were a note for $200 dated 9 April 1850 payable after one month notice, principal $200 with 3 months interest is $3.60 for a total of $203.60; a note dated 27 March for $100 with $2 interest; a note dated 30 September 1849 for $25, and a note dated 19 March 1850 for $77.00, totaling $407.60 due Frederick Brüseke. He also had $50 cash and a bank certificate of $250 for a total estate valued at $755.10.
Sophia Brüseke was scheduled to appear before the Probate Judge 13 December 1851 and present her accounts for settlement. She apparently didn't appear and the judge commanded the marshal to attach Sophie and have her appear before the judge 3 March 1852 and revoke her appointment. The marshal signed a document on 13 March 1852 saying she was not found in his county.27 What happened to Sophia/Savina Brüseke and her infant son William is unknown.
Child of Eberhard William5 and Sophia/Savina (Pickles) Brüseke:
i. WILLIAM6 BRÜSEKE, born about May 1850 in St. Louis, Missouri.
5 ii. HERMANN HEINRICH4 BRÜSEKE, born 1774 in Lienen but the date was not legible. Herman Henr Brüseke was confirmed in 1792 at the Lienen Evangelical Church.
6 iii. CONRAD HEINRICH4 BRÜSEKE, born 29 May 1778 and baptized 5 June 1778 at the Lienen Evangelical Church. Sponsors were Conrad Hind Utselage, Herm Hind Hershoff, and Anna Elisab Bresen.
7 iv. ANNA CATHARINA ELISABETH4 BRÜSEKE, born 26 March 1781. Cath Elisabeth Breseke or Bruseker [sic] was confirmed in 1797 at the Lienen Evangelical Church. She married Johann Herman Eberhard Krumme 6 December 1811 in Lienen. Her parents were shown as Wilhelm Brueseke and Anna Sophia Diersmann.
LIENEN CHURCH
The Evangelical Church or Evangelische Kirche is the only Evangelical Church in Lienen, Germany. It is a very old church which has been in use for many generations. In 1997 a major renovation was done to the church. I visited the church in 2002.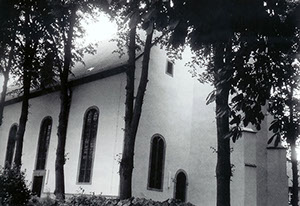 Lienen Evangelical Church, 1973
Inside Lienen Church, 1950s
— NOTES —
The following abbreviations are used in these notes.
Family History Library – FHL
International Genealogical Index – IGI
St. Louis County Library – SLCL
1 F.E. Hunsche, Auswanderer-Chronik der Gemeinde Lienen, (Herausgeber: Gemeinde Lienen, Druck: Lamprecht GmbH, Lengerich 1990).
2 Friedrich E. Hunsche, 1000 Jahre Gemarkung Lienen 965–1965, Friedrich Peters Research File, 1965.
3 Jorgen Brüseke, birth, FHL, film 0526267, Evangelische Kirche Lienen, Taufen 1711–1727, also shows father Herman Brüseken.
4 Johann Wilhelm Brüseke, death, FHL, film 0527981, Evangelische Kirche Lienen, Tote 1799–1809.
5 Sophie Diersmann Bruseken, death, FHL, film 0527981, Evangelische Kirche Lienen, Tote 1799–1809.
6 Johann Wilhelm Brüseke, birth, FHL film 0526267, Evangelische Kirche Lienen, Taufen 1711–1727 and Taufen 1733–1778.
7 Johann Wilhelm Bruseke, baptism, Evangelische Church, Lienen, 74, copy is dated 1938 and obtained by the family to prove they were not Jewish during the war. It has the seal from the Burgermeister (mayor).
8 Anna Catharina Elisabeth Tigges, birth, baptism, and marriage, Burgermeister in Lienen, dated 5 September 1934.
9 Catharina Elisabeth Tigges Brüseke, death, FHL film 0527981, Evangelische Kirche Lienen, Tote 1799–1809 & 1815-1832, no. 10.
10 Catharina Agnesa Brüseke, baptism, Evangelische Kirche Lienen, parish register, no. 113 [This information is from Brigitte Jahnke, a German researcher.]
11 Brüseke-Strübbe marriage, Evangelische Kirche Lienen, parish register, no. 17.
12 Friederich Strübbe birth & baptism, FHL film 465570, Evangelische Kirche Lienen, Geburten 1838–1863, no. 26.
13 Strübbe-Beckmann marriage, FHL film 0527982, Evangelische Kirche Lienen, Heiraten 1819–1899, 1861, no. 28.
14 F.E. Hunsche, Auswanderer-Chronik der Gemeinde Lienen, 1990 (Herausgeber: Gemeinde Lienen, Druck:Lamprecht GmbH, Lengerich), no. 2462.
15 1883 and 1891 St. Louis City Directory, Polk Gould, pgs. 1062, 1342.
16 Wilhelmine Struebbe death, Register of Deaths City of St. Louis, SLCL, RDSL-34, Vol 25, p. 197, and
St. Louis Death Registers, CD Index 1850–1908, St. Louis Genealogical Society, no. 1966.
17 Caroline Elisabeth Strübbe, birth & baptism, FHL film 0465570, Evangelische Kirche Lienen, Geburten 1838–1863, p. 365, item 3.
18 Brueseke-Struebbe marriage, City of St. Louis Application to Marry, Vol 23, p. 624, no. 5557; and Evangelical & UCC Church Records, St. Johns UCC 1853–1981, EVUC, SLCL, roll no. 54, 1882, item 48.
19 Caroline Brueseke, death, Missouri State Board of Health, no. 33753.
20 Ernst Wilhelm Strübbe, birth & baptism, FHL film 0465570, Evangelische Kirche Lienen, Geburten
1838–1863, p. 379, item 1.
21 Wm. Struebbe, burial permit, St. Louis Post Dispatch, St. Louis, Missouri, 5 December 1890, p. 9.
22 William Struebbe, death, Register of Deaths City of St. Louis, SLCL, RDSL-34, Vol 25, p. 75, no. 7811.
23 Ernst Heinrich Struebbe, baptism, IGI, FHL film 0465570, Evangelische Kirche Lienen.
24 Anna Sophia Brüseke, birth & baptism, Lienen Civil Register, no. 195 (This information is from Brigitte Jahnke, a German researcher.)
25 Anna Sopia Brüseke, death, Lienen Civil Register, no. 56. [This information is from Brigitte Jahnke, a German researcher.]
26 Eberhard Wilhelm Brüseke, birth & baptism, FHL film 0526269, Evangelische Kirche Lienen, Geburten 1803–1837, 1818 no. 41.
27 William Bruscke, probate, Missouri Secretary of State, case 03226, filed 1850, C27608.
28 Herman Heinrich Brüseke, birth & baptism, FHL film 0526267, Evangelische Kirche Lienen, Taufen
1733–1778, 1774, p. 274. no. 122.
29 Herman Heinrich Brüseke, confirmation, FHL film 0527985, Evangelische Kirche Lienen, Konfirmationen 1778–1905, 1792.
30 Conrad Heinrich Brüseke, birth & baptism, FHL film 0526267, Evangelische Kirche Lienen, Taufen
1733–1778, 1778, p. 370, no. 88.
31 Anna Catharina Elisabeth Brüseke, confirmation, FHL film 0527985, Evangelische Kirche Lienen, Konfirmationen 1778–1905, 1797.
32 Krumme-Brüseke marriage, FHL, IGI, Evangelisch Kirche Lienen, film 0527986.