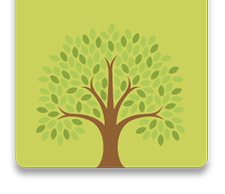 INTRODUCTION
In the late 1970s, I watched my father, Edwin Brune, and mother, Ruth (Hecht) Brune, work on genealogy. My Dad had recently retired and pursued genealogy as a hobby. My Mom took his notes and began adding the data to charts that looked like family trees. A few years later, I married and became interested in gathering information on my new married name McCreary. Thus began the collection of data that led to this book.
Mayme McCreary McGill Jones Stunkard (1882-1950), daughter of Albert McCreary and Lydia Babb
When I started in genealogy in the 1980s, the technique for finding information was so different from today. Most of the initial data that I gathered on the McCreary family, I acquired from the late John Hall, and then from my own research in the late 1990s, and the past four years. Using a computer, the Internet, and email have enabled me to find many McCreary relatives. In 2005 I finished writing the Hecht Family History, my mother's father's family. After that, using research gathered years before, I decided to work on my mother's mother's family, and the Brueseke Family History was finished the end of 2006. Then in early 2008 I published the Bremer & Brune Family History, which is my father's family. In June 2007 I explored whether there was interest in a Torian book (my mother-in-law's family) with about 15 Torian "cousins." After receiving some commitment to sharing information I started writing in the summer of 2007 and I worked two and one half years on that book from 10 to 40 hours a week. After finishing the Torian book I was determined never to write another one but I continued to research the McCrearys without knowing what I would do with the information. I spent six days in November 2010 and six days in November 2011, and nine days in 2012, and six days in 2013 for a total of 27 days in Salt Lake City at the Family History Library working solely on the McCrearys. I spent 4 days in the spring of 2011, 2012, and 2013 at the Allen County Library in Fort Wayne, Indiana researching the McCrearys. And I spent countless hours on the internet finding so many valuable databases with McCreary information. About January 2012 I gave in and decided I might as well write another family history book. I sent hundreds of letters and emails to relatives and organizations to gather information. Through this effort I've identified nearly 3400 McCreary descendants and their extended families.
I have pestered McCreary "cousins" to write stories about their families, parents, and grandparents and share information and documents so I could add them to this book. I thank them for doing this and sharing copies of photos and other documents. It is these stories and photos that make the people interesting and come to life and more than just "born, married, died" statistics and I only regret there aren't more of these stories in this book.
Throughout the writing of this book I have recalled the book title It takes a Village [to Raise a Child] written by Hillary Clinton. I feel like it has taken a village of McCreary relatives to write this book. Several people have helped me extensively in gathering information for this book. The late John Hall of California spent several decades researching the McCreary family and he willingly shared a descendancy chart with anyone who asked. His spouse Cordelia Hall mailed several boxes of his materials to me in 2013. This gave many clues for further research. Wendy Jones Wilson, the granddaughter of W. O. McCreary willingly shared his research. In the 1930s, 1940s, 1950s, he wrote letters to McCrearys all over the United States regardless of the spelling of their surname trying to find relatives. Wendy sent a CD to me that contained hundreds of documents and photos. John Malcomb McCreary of California shared charts, photos, and letters about the family of John McCreary (1832-1908) of Omaha. Mike Sullivan researched the McFarland family which George McCreary's daughters Rebecca and Elizabeth married into. Jill Carter Knuth shared many items including the contents of an old scrapbook of the Eli A. James family whose mother was Mary McCreary James. The album contained many wonderful photos of the family and details of the 1901 McCreary reunion in Bradner, Ohio. Jill visited many of the Ohio counties in 2013 where our McCreary ancestors lived. She went to cemeteries, courthouses, etc. to find documentation about these folks. She also drew maps showing the relationships of ranges, townships and sections. Jill also was a sounding board to me and often helped me think through relationships of McCrearys with the same first name in the same county during the same time period. Dozens of others shared stories and photos and I have tried to give them credit in the chapters. I am extremely grateful to all of these people. It truly has taken a village to write this book.
The McCrearys started in eastern Pennsylvania in York County around the Revolutionary War and headed to western Pennsylvania to Washington County. From there George McCreary and most of his children moved about 1800 to Licking County, Ohio and then the Counties of Delaware, and Knox which in 1848 split and part became Morrow County. Children then spread in many directions but most continued a western movement briefly through Illinois and Indiana and into Iowa. Many settled for generations in various counties of Iowa. Some moved into Missouri, Nebraska, Kansas and a few headed all the way west to Oregon, Montana, and California. Most of the McCrearys weren't famous people by any means. Most, particularly in the 1800s were farmers and were the backbone of the people who formed our nation. In the 1900s their occupations became more diverse but still most were ordinary people.
Researching the McCreary surname has been very frustrating compared to previous surnames I've researched. There are far more McCrearys than I ever anticipated and even in the early 1800s I found multiple people with the same first name in the same county during the same time period with little information to distinguish them from each other. This has led me to state far more often than I would like, that I don't have proof of a relationship. Brothers Thomas (Chapter II) and Benjamin (Chapter V) each had a son named John who were born within 7 years of each other and lived in Knox County, Ohio around the same time. It is nearly impossible to separate the two and their land purchases etc. George the immigrant had a son William and I've found several William McCrearys who lived in Knox County around the same time and were born within 15 years of each other. You will find my reasoning and conclusions in chapter VIII and XI. I've tried to list all my resources to show where I got the information with the exception of census records. All census records have come from Ancestry.com with the spelling of the name as listed in their index. Another complication is that McCreary is misspelled McCrary, McCreery, McCrory, McCleary, McCrery, McCrury, McCready, McCrany, McCrarey, McReery, McKrery, McCeary, McCurrie, etc. in various records.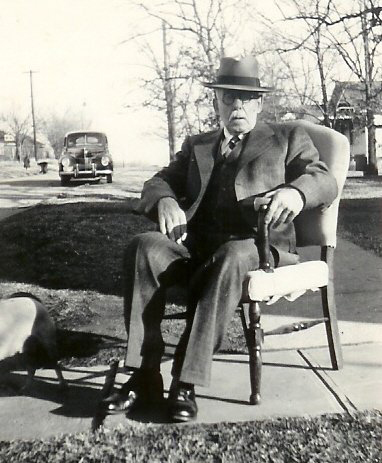 Daniel Edward McCreary (1871-1948), son of James McCreary Jr. and Sarah Larimer
In the early 1990s, I took a class on how to write your family history and that led me to start my first book. I needed technological help and I thank Karen Miller for her assistance in adding the scanned photos to many of the Microsoft Word chapters.
Throughout the book, I have retained the original spelling I found in historical documents, even if it was incorrect. I have tried to list [sic] to designate the spelling is incorrect; however, the text contains the original spelling. Thus you will see a name spelled many ways.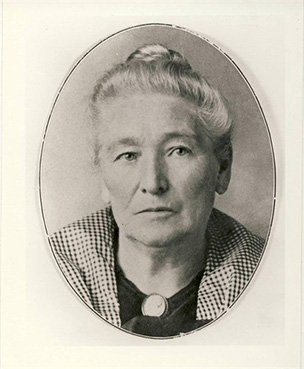 Sarah McCreary Nansel (1858-1927), daughter of Jehiel McCreary and Margaret "Ann" Jackson
ca
Circa, this indicator means about, and is used when an exact date is unknown.
[sic]
This symbol is used when a document contains a misspelled word or another error. When citing original records, the information is transcribed as it appears in the document even though it is incorrect because I couldn't change the historical record.
…
This indicates words I've omitted either because I couldn't read them or they weren't important for the book. It's usually found in old deeds or wills with handwriting difficult to read or found in obituaries or news stories with names not important to the McCrearys.
A small raised italic number after a given name, Thomas2, is a generation number showing the number of generations from the first family member, George McCreary. The superscript numbers within or at the end of a sentence are the citation numbers. The endnotes provide the documentation where this information was located. Information written in italics indicates I did not write this material and it is from another source.
I struggled with how to organize this book since it is so large. Chapter 1 starts with the earliest known McCreary, George who was an immigrant to the United States about 1775. Successive chapters are named for each of his children. Some chapters may only be a page long since that's all I've found and one chapter is 300 plus pages long. I've tried to help clarify the generations by
relisting the parent's names, using generation numbers, using bold, and specifying which number child and even including many blank lines to show the start of another family member. Family charts in the appendix will also help clarify generations. Because of space limitations, the Table of Contents does NOT consistently list all children of a generation. I tried to list all McCrearys who had substantial information about them in the chapter and particularly those who had known living descendants who would be looking for them in the book. All names are in the index for easier searching except the occasional name in an obituary or deed who are not related or otherwise in the book.
My approach has been to concentrate on the McCreary relatives. Of course, there are allied lines but most of the data is about the McCrearys. As female McCrearys married men with different surnames I included less information. As the surname changed from McCreary I usually stopped listing the family once I had grandchildren of McCrearys included. I included nearly everything I learned on the deceased family members. In order to protect the privacy of the living, I have only used names and year of birth, not complete dates, etc., unless the family member gave permission to include more. Years of birth were necessary to distinguish between people with the same name. Complete marriage dates are used since these are found in public records.
One of the greatest joys in researching and writing this book has been in discovering new "cousins" and making new friends. I hope I have not offended anyone with what I have included. In spite of trying to have the thousands of details reviewed by a relative and numerous proofings of the data, I'm sure I've made some unfortunate errors. If I have, I apologize. If there are corrections or additions, I welcome knowing about them.
Marian Brune McCreary
2015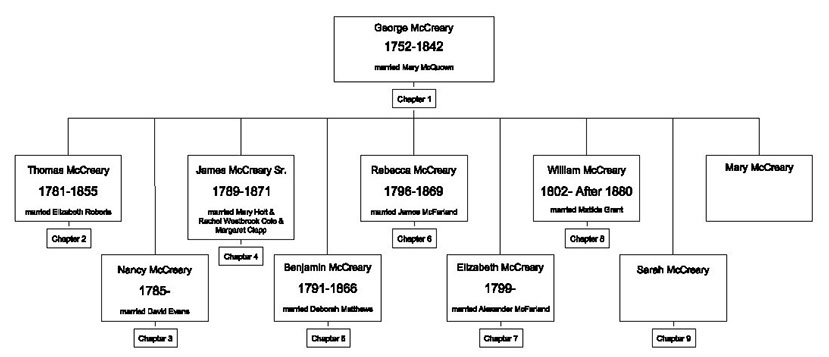 Chart of McCreary Family History Book Organization