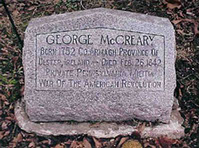 George McCreary, our original immigrant, Ohio
Herman Bremer, St. Louis, Missouri
Katharine Scherrer Brueseke and her adult children, 1924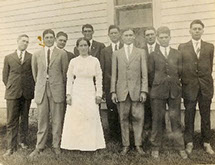 Adult children of William Hecht and Anna Schmidt Hecht, 1916, Franklin County, Missouri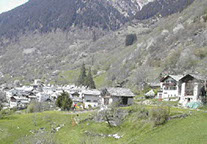 Soglio, Switzerland, where the Torians come from
About the Family Tree Books
Over the years while I was growing up, I watched my parents gather data and work on their family trees. It was low tech, and accomplished by my dad typing letters to Germany about his Brune and Bremer relatives, and my mom drawing a family tree on huge sheets of paper for her mother's family (Brueseke), and her father's family (Hecht). My grandmother had lots of old photos, but at the time I wasn't very interested and didn't ask her about them. I never got the opportunity to ask later, as she died during my teen years. When I married in 1980, I became interested in my married surname, McCreary, and my mother-in-law's sister shared pages of hand written notes about the extended Torian family with me. In the mid-1990s, I got a computer both at work and at home, and acquired an email address. I accidently found a lady in Texas who was working on my mother-in-law's maiden surname, Torian. I joined her email group and ended up corresponding for years. Before I knew it, I was hooked on genealogy.
In the 1990s, I used my parents' notes and started supplementing them with what little information was available on the fledgling internet. Over the past 20 years, the internet has of course exploded, and research methods are so different. During the 2000s, I spent many vacations researching my family names. I traveled to the Family History Library in Salt Lake City, and the Allen County Library in Fort Wayne, Indiana — the first and second largest genealogy libraries in the United States. At some point, I decided to write a book on the Hecht family, which was my mother's father's surname. I took a class through the St. Louis Genealogy Society on how to write a family history, and thus the first book was born. Over the last 10 years, I have continued to write family history books using both the old research from my parents, and my new research. I marketed each of these books to families — particularly those that I corresponded with that contributed stories, family group sheets, and photos of their families. Along the way, a distant relative whom I've never met offered to develop a website (Torian.com) for one of the surnames that he was related to. Now in 2015, it seems like I am about to finish my last book, the McCreary Family History. I wanted to have information in a central place about all five books that I've written; thus this website was created.
Each book has hundreds or even thousands of endnotes which show the source of my information and a name index showing everyone included in the book. A CD also is available for purchase which includes all the photos and documents in the book plus many that wouldn't fit in the book.
If you have further questions, please email me at: mmccre8814@aol.com.
I hope you enjoy the search for my ancestors and yours.
Marian Brune McCreary
How to Use This Site
Information is available on the 6 surnames, McCreary, Hecht, Bremer & Brune, Brueseke, and Torian. Click on the surname in the top navigation bar, and it will take you to the page for that name. On each surname page you will find the following information from each book:
Chapter 1, which tells the story of the immigrant and what is known about him and his ancestors in the home country and his life in America.
Introduction
Table of Contents
Favorite Photos
Book Order Form. Each order form explains the chapters and the cost.